Paul Winter's
World of
Living Music
Celebrating the Cultures and Creatures of the Whole Earth
Listen Now
REMEMBERING DAVID DARLING
Listen to the 19-track playlist Consorting with David, and read the accompanying story and liner notes. Click the button below for more details. 
PAUL WINTER'S 26TH ANNUAL SUMMER SOLSTICE CELEBRATION
Available to stream through August 31st, 2021. Learn more and purchase tickets through the link below. 
About Paul Winter
Seven-time Grammy® winner Paul Winter has a body of work that chronicles his wide-ranging experiences in the musical traditions and natural environments of the Earth. The saxophonist, composer and bandleader founded Living Music as the recording context for his ensemble, the Paul Winter Consort, and his community of colleagues, which includes some of the world's finest jazz, world, and classical musicians, along with notable voices from the great symphony of wildlife.
Upcoming Events



Join us virtually!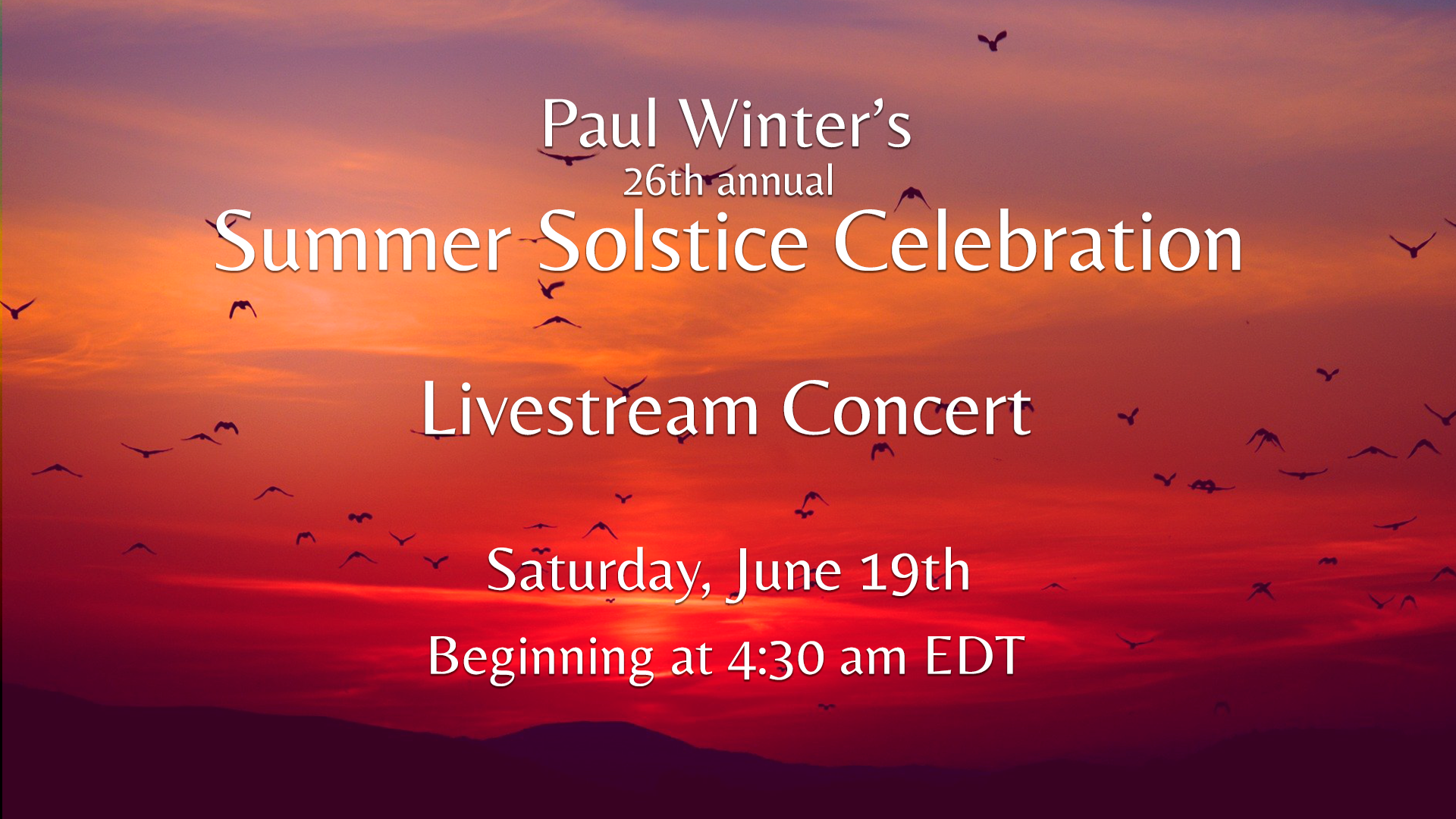 June 19, 2021 - August 31, 2021
@ 4:30 am- @ 6:00 pm
Music

Paul Winter has recorded more than 50 albums with his ensemble, the Paul Winter Consort, and his community of colleagues, some of the finest jazz, classical and world music musicians. Seven of his albums have received Grammy® awards. 
Earth Music



Learn about the way that Paul Winter has incorporated nature in his creative process.

Contact



Drop us a line if you want to get in touch, or for press, licensing, or booking inquiries.

This milestone collaboration, recorded in Moscow and New York in 1987, was the first album of original music created by Americans and Russians together. The Consort's western harmonies and Afro-Brazilian rhythms floating over the ancient circle songs and village chants revitalized by the dynamic Russian singers make this into an energetic, reverberating layering of sound.
Rooted in the traditions of ancient Russian village music, the Ensemble dedicates itself to preserving songs that are perhaps a thousand years old. Established in 1974, the Pokrovsky Ensemble spent many years in the underground of Soviet culture, and then emerged as one of the most popular vocal groups in Russia. The Consort met the Pokrovsky Ensemble during a tour of the Soviet Union in September 1986, when they performed together a concert at Moscow University. The two groups felt an immediate kinship, and, through interpreters, talked enthusiastically about creating new music together. Paul sought permission from Melodiya, the Soviet state record company, which agreed to a co-production. In March, 1987, the Consort returned to Moscow to begin writing and recording. Immersing themselves in the songs, the Consort improvised new melodies in counterpoint and added various percussion instruments in accompaniment. Gradually new layers of music began to grow, integrating Western harmonies and Afro-Brazilian rhythms with the Pokrovsky Ensemble's ancient circle songs and chants.
"All melodious poets shall be
hoarse as street ballads,
when once the penetrating keynote
of nature and spirit
is sounded –
the earth-beat, sea-beat, heart-beat,
which make the tune
to which the sun rolls,
and the globule of blood
and the sap of the trees."
-Charles Ives,
ESSAYS BEFORE A SONATA, 1916
– Billboard – spotlight review
Reviews
"From the opening notes of Winter's soprano echoing in that reverberant space on "Triumph," it's clear this isn't your typical contemporary Celtic album. Winter is joined by organist Paul Halley and Irish uilleann piper Davy Spillane, and it's an impassioned, intuitive improvisation that swirls in echoing harmonies that lift to the cathedral's ceiling. And that's just the first track. Winter has put together a series of solos, trios, and larger ensemble pieces that work a similar magic. He's joined by singer Karan Casey from the group Solas on the serene "Golden Apples of the Moon." Tin whistle player and flutist Joanie Madden from Cherish the Ladies offers one of her loveliest compositions, "Running Through the Woods with Keetu," named for Winter's daughter. But Celtic Solstice isn't all serene evocations of the Celtic Spirit. Riverdance fiddler Eileen Ivers, harpist Carol Thompson, and uilleann piper Jerry O' Sullivan join a full ensemble of Irish, African, and South American percussion on "My Fair and Faithful Love/Blarney Pilgrim," which slow-builds to a full Irish stomp. Paul Winter has tapped into the communal nature of Irish music. It's the same spirit he takes from his jazz background. When he joins the pipes and whistles in dizzying improvisations or contemplative ruminations, there's a sense of shared exploration that takes you with him." – John Diliberto
Performers
Paul Winter | soprano saxophone
Davy Spillane | Uilleann pipes
Eileen Ivers | fiddle
Karan Casey | vocals
Joanie Madden | whistle and flute
Jerry O'Sullivan | pipes
Paul Halley | pipe organ
Jamey Haddad | percussion  
Zan McLeod | guitar
Carol Thompson | Celtic harp
Austin McGrath | bodhran
Bakithi Kumalo | bass
Join the World
of Living Music

Get the Latest News & Updates