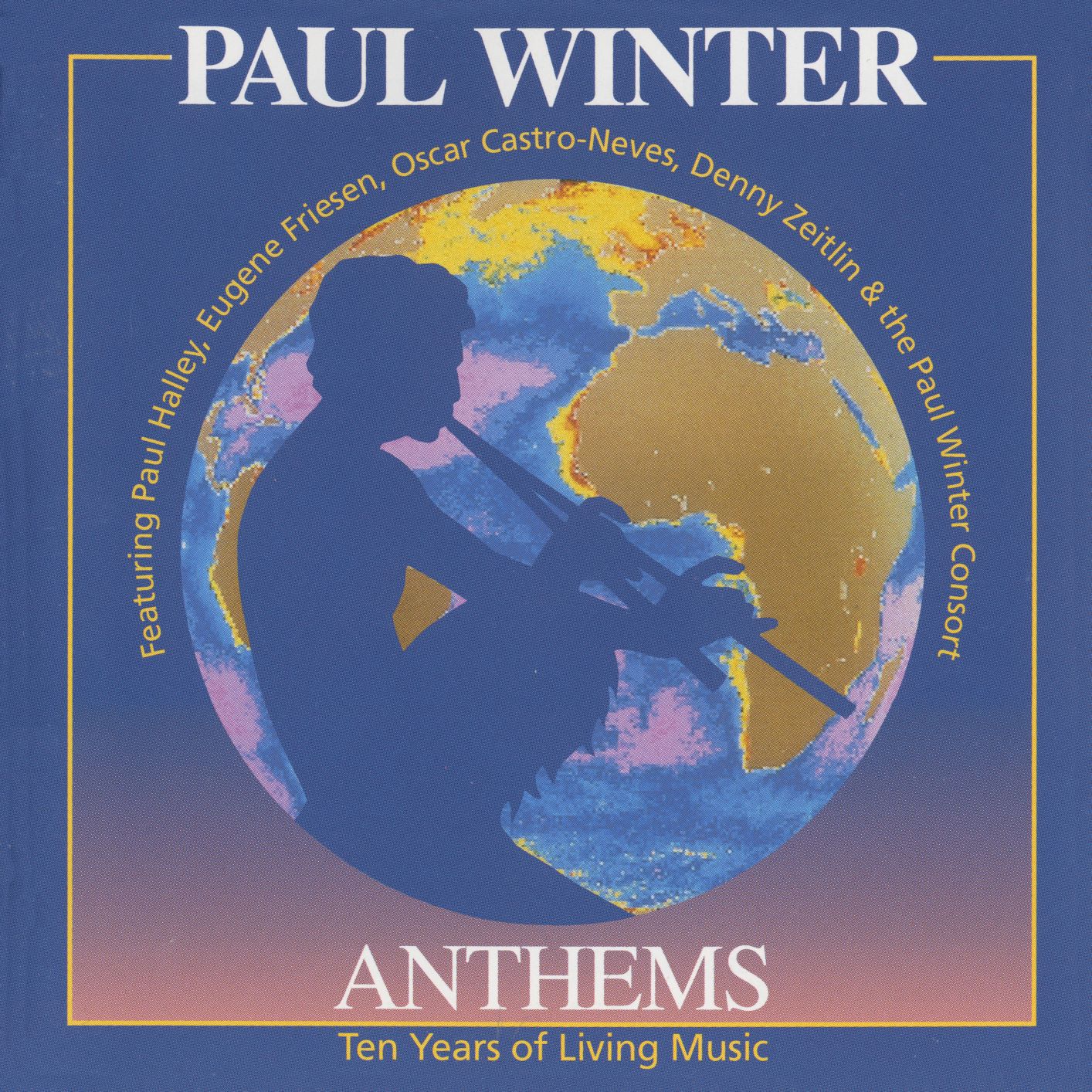 Anthems
Paul Winter
Released 2007
Run Time: 72 minutes, 7 seconds
Produced by: Paul Winter
©℗2007 Earth Music Productions, LLC
Anthems is an eloquent introduction to the first ten years of Living Music, featuring some of the world's finest jazz, classical and world musicians, along with extraordinary voices from the great symphony of wildlife.
Featuring artists like Paul Halley, Eugene Friesen and Winter himself, this anthology amply displays the tradition of interweaving diverse instruments and voices from different parts of the world. Mid-tempo and jazzy in parts, but consistently melodic, Anthems celebrates the people, places, creatures and cultures of the Earth. 
Performers
Paul Winter | soprano sax 
Eugene Friesen | cello and voice
David Darling | cello
John Clark | French horn
Nancy Rumbel | English horn
Rhonda Larson | flute
Susan Osborn | voice
Jim Scott | classical guitar
Oscar Castro-Neves | guitar, piano
Paul Halley | keys
Denny Zeitlin | piano

Kenny Mazur | guitar
Dan Carillo | steel-string guitar

Russ Landau | bass
Ted Moore | shaker, ride cymbal, drums
Paolo Rossi | triangle, whistle
Lui Rocher | surdo, whistle
Marcio Ferreira | cuica, whistle
Paul Wertico | percussion
Glen Velez | percussion

Guilherme Franco | percussion
Kimati Dinizulu | persussion

Neil Clark | percussion
The Dmitri Pokrovsky Ensemble: Dmitri Pokrovsky, Maria Nefedova, Alexander Danilov, Elena Sidorenko, Sergei Zhirkov, Tamara Smyslova, Arthur Partosh, Anna Konukhova, Andrei Kotov, Nini Savistkaya, Dmitri Fokin, Vladimir Teplov, Irina Ponomaryova, Sergei Grigoriev

The Cathedral Chorus: Gil Robbins, Bruce Fifer, Peter Atherton, Jennifer Brown, Nancy Coker, Michael Dash, David Dusing, William Hall, Bonnie Hamilton, Randy Hansen, Cindy Richards Hewes, Stephen Montgomery, Dora Ohrenstein, Maitland Peters, Adele Robbins, Jon Rollins, Gene Rickard, David Smith, Lloyd Thompkins, Cliff Townsend, Leo Warbington
The Cathedral Choristers: Temidayo Akinyemi, Rani Arbo, Christa Chang, Joanna Clymer, Niels Engberg, Ian Ford, Julius Ford, Laura Hildesley, Harry Kakatsakis, Jonathan Margulies, Sophia Morton, Samera Nasarredin, David Owen, Samantha Skolnik, Maxim Weintraub
Reviews
"This compilation album, billed as "Ten Years of Living Music," is the perfect starting place for any who wish to discover the artistry and talents of Paul Winter and Friends, a group that includes not only his Consort but a number of individual efforts as well. I have given this album to a number of friends for just that reason, and it seldom fails to have its intended effect: These friends then go on to explore a much wider range of Paul Winter's Living Music from which this album has been compiled. 
The seventeen tracks on this generously-filled album are divided quite evenly into excerpts from Consort albums and excerpts from albums spotlighting, and produced by, individual Consort members and friends, including Oscar Castro-Neves, Eugene Friesen, Paul Halley and Denny Zeitlin. Two tracks are excerpted from Living Music albums curretnly (and hopefully temporarily) out of print, and thus deserve special mention: Eugene Friesen's "River Music" (from Friesen's Arms Around You album) and Denny Zeitlin's "Hymn" (from Zeitlin's Homecoming album). Anthems is well worth the price of admission just to hear these two tracks, which, respectively, represent Friesen at his most creative and manic in terms of his musical conceptualizing, scoring skills and over-the-top cello playing, and Zeitlin at his most poetic while improvising at the keyboard. These two selections alone would garner this album the five stars above. But the rest of the album surely doesn't disappoint, either. Oscar Castro-Neves' "Song for Joyce" (for guitar, piano and organ) was, to me, an instant classic, one of the finest things Castro-Neves has ever done." –Bob Zeidler
Join the World
of Living Music

Get the Latest News & Updates