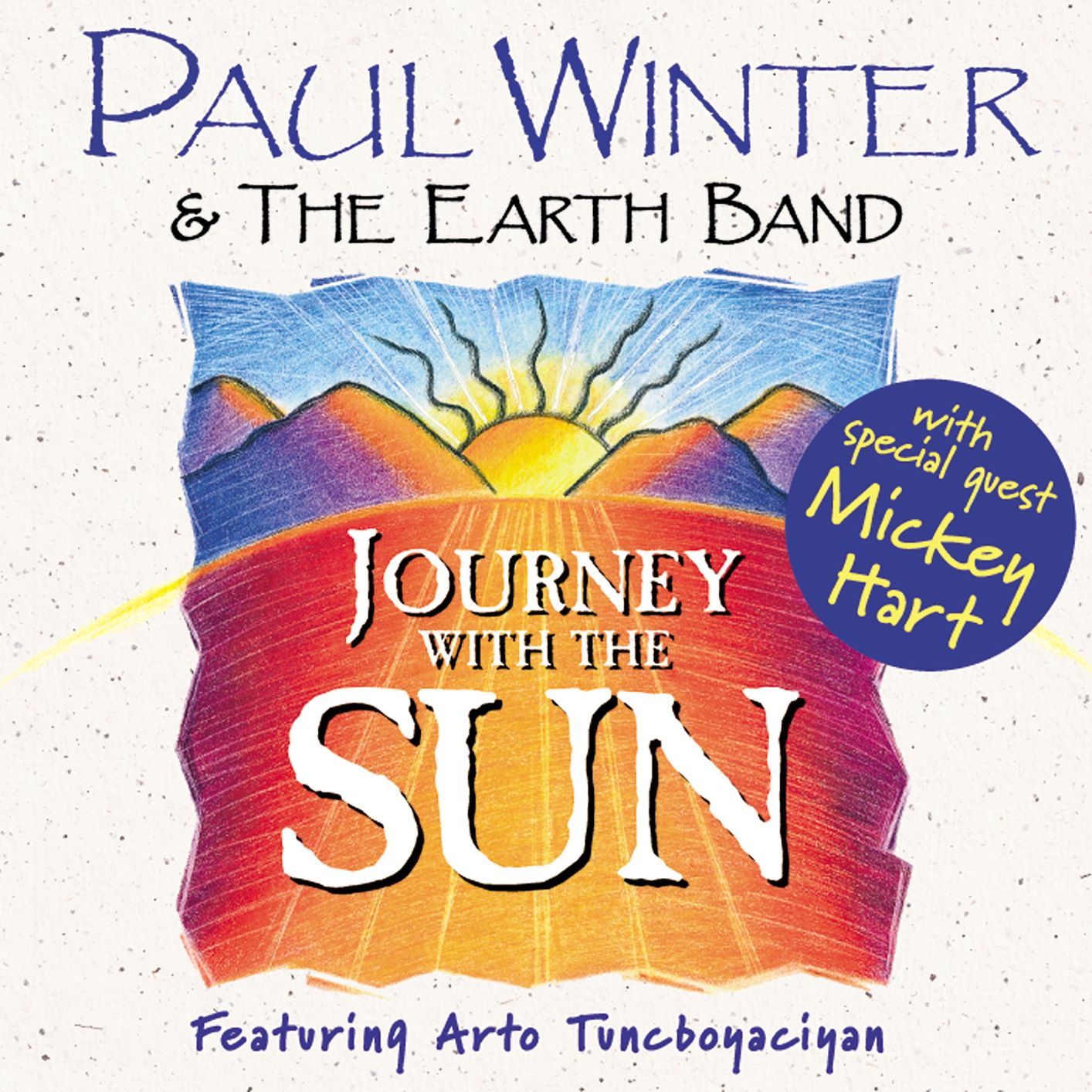 Journey With The Sun
Paul Winter & The Earth Band
Released 2000
Run Time: 66 minutes 2 seconds
Produced by: Paul Winter and Dixon Van Winkle
©℗2000 Earth Music Productions, LLC
Nominated for the 2000 Grammy® for World Music.
Journey with the Sun presents the adventures of a caravan of world musicians, recorded in the great space of the world's largest Gothic cathedral, the Cathedral of St. John the Divine. This album was nominated for the 2000 Grammy® for World Music, and features seven-time Grammy Winner Paul Winter and his Earth Band, with the Irish piper, Davy Spillane (of Riverdance), Armenian vocalist and percussionist Arto Tuncboyaciyan, cellist Eugene Friesen and keyboardist Paul Halley (long-time members of the Paul Winter Consort) along with special guest Mickey Hart (of the Grateful Dead) playing his new instrument, RAMU (Random Access Music Universe), and a caravan of 9 other world musicians, on a journey of new musical adventures born of Winter's renowned annual Solstice Celebrations.
"An all-star album that makes you listen because it's new and exciting and not because he's a safe brand name. Taking his playing to a new level, with a new edition of his Earth Band, Winter remains the top enchanting musical story teller." 
– Midwest Record Recap
Reviews:
"Each year during the winter and summer solstices, Paul Winter plays dawn concerts at the Cathedral of St. John the Divine in New York City. He gathers a crew of international players to join his core consort members, cellist Eugene Friesen and keyboardist Paul Halley, to create a global chamber music. Journey with the Sun draws on compositions that have emerged from the last two years' performances. Although Paul Winter is clearly the leader here, the album focuses on Turkish-Armenian singer and percussionist Arto Tuncboyaciyan, who has become a dominating force in the solstice shows in recent years. He sings in a hybrid language of vocables, not unlike Lisa Gerrard or Azam Ali of Vas. An immensely soulful singer, he draws on the same Armenian well of melancholy that also sustains Armenian doudouk master Djivan Gasparyan. Journey with the Sun opens with "Caravan of Dawn," with Tuncboyaciyan's faux call to prayer sending the group into a whirling dervish of Middle Eastern percussion. Paul Winter gives what may be his most wailing solo in years as he merges into a storm of zurnas and the digital santoor of Grateful Dead drummer Mickey Hart. Among the many guests on the album, Hart is joined by Irish singer Niamh Parsons, Romanian pan-pipe player Damian Draghici, and Irish uilleann piper Davy Spillane. From the exuberant Balkan influences "Mountain Wedding" to the more serene spaces of "Cave of Winds" and "Pas de Deux," Journey with the Sun extends Winter's global chamber music once again." –John Diliberto 
–
"…Journey With The Sun is also a "best hits" album of two years' worth of recent Paul Winter Solstice Concerts (both Summer and Winter) at the Cathedral of St. John the Divine in New York, so the album also has the contributions of "regulars" such as Eugene Friesen, Paul Halley and Dorothy Papadakos, and "frequent Consorters" such as Davy Spillane, Jerry O'Sullivan, Niamh Parsons, Jim Beard, and of course the redoubtable Jordan Rudess. Winter and Halley once again demonstrate their stranglehold on "cathedral blues" with "Cave of the Winds," where Winter wails as well as he ever has in his opening soliloquy and Halley trips off on one of his best-ever organ improvisations. Davy Spillane once again serves notice that he is more than just the best improvisational Uilleann piper on the planet; he is the Johnny Hodges of the pipes. Mickey Hart shows off the remarkable capabilities of RAMU in a cute, upbeat track called "Yabu." There are keyboards (piano, pipe organ, synthesizer) galore, with Halley and Rudess laying down some truly astounding synthesizer tracks. Eugene Friesen is still the best improvisational cellist around, with a nice Friesen/Spillane duet (a fascinating sonic juxtaposition) in "Pas de Deux." There's a nice Celtic ballad sung by Ms. Parsons. And two great stomps in "Mountain Wedding" and "Land of the Pipers" to serve notice that not all is tinged with melismatic melancholy.  
Paul Winter recently wrote, in his "Greatest Hits" album, that "…the best is yet to come." And he wasn't kidding. Man, I just can't pick a favorite track on this album. Consider this a positive statement of "the best," with, I'm sure, yet more to follow.  
By the way, a Grammy nominee for Best World Music Album. Deservedly so." –Bob Zeidler 
–
"Adventures of a caravan of world musicians, recorded in the great space of the world's largest Gothic cathedral," proclaims the back cover of this CD. This is a wonderful concert of true world music, originally performed in 1998 as a sunrise service celebrating the summer solstice in Manhattan's Cathedral of St. John the Divine. This music varies widely in style, from Near Eastern to Celtic, African to modern jazz. But the selections are similarly and deeply affecting, filled with all the longing and fulfillment life has to offer, and celebrating both extremes with equal fervor. The Earth Band is comprised of saxophonist Paul Winter, percussionist and vocalist Arto Tuncboyaciyan, Davy Spillane on Uillean pipes and whistle, Eugene Friesen on cello and Paul Halley on keyboards. Guest musicians include Mickey Hart, with his Random Access Music Universe (RAMU), and singer Niamh Parsons. Each artist gets his or her chance to shine. Many of the tracks are characterized by the distinctive talents of Tuncboyaciyan, who sings not in his native Armenian, but in a unique dialect all his own. Paul Winter's soprano sax is wonderfully versatile, fitting seamlessly into the wide range of musical styles performed. And I love the use of the cathedral's pipe organ–grand, full-throated and unapologetic, it fills its home-space with all its glory, reminding modern listeners that it is not called "The King of Instruments" for nothing. Of one track (#4), Winter writes: "I wrote this in 1975… I've waited a long time for a band that could bring it home." He could just as well be referring to the whole album, because this band and its guests do just that. Put this CD on in the dark, and imagine watching the stained glass windows of an enormous and resonant cathedral slowly beginning to glow with the rising of the sun, until the huge space of the nave is bathed in multi-colored jewels of light. Whether you can actually see the "light show" or not, that is the effect listening to this music will have on your spirit." –Brianna Neal
–  
"Like the music or not (and there's a lot to like on this CD), Paul Winter's albums always sound great, and this one's no exception. It was recorded in the huge, reverberating space of New York's Cathedral of St. John the Divine, and there's a lot of fine music here to fill that space, echoing and pulsating with a life of its own.  
The first track, "Caravan at Dawn," sets the mood perfectly, with the soft keening of Winter's soprano sax played solo, then joined by vocalist Arto Tuncboyaciyan, whose fiery tones paint a picture of the rising sun. When the percussion enters, the portrait is complete and masterful. Paul Winter has always been more of a world music practitioner than a new age artist, and from beginning to end, this CD supports that view. There's a ton of musical content here, most of it derived from Middle-Eastern music, and listeners will seldom zone out the way they do with a lot of the droning dullness marketed as new age." –Rambles
– 
A sunbeam has struck Paul Winter's Earth Band, and its name is Arto Tuncboyaciyan. This Armenian vocalist, percussionist, and instrumentalist sings in his own personal dialect — which he calls "Arto-stan" — and with extraordinary power. From rousing the imagined travelers in "Caravan at Dawn" and railing against the mountain who took his brother's life in "Singing to the Mountain" to the bittersweet tenderness of "Broken Arm" (the Armenian version of a broken heart), Arto charges Journey with the Sun with real guts and palpable emotion. The album's Middle Eastern and Balkan tinges are amplified into lofty new dimensions by Paul Winter's signature soprano sax, Paul Halley's 8,035 pipe organ, Davy Spillane's Uilleann pipes, and Eugene Friesen's cello. Among the more celebratory passages along the way are the stirring "Mountain Wedding," a circle dance inspired by the rhythms of the Balkans, and "Land of the Pipers," a noble march that morphs into a frenzied romp. Grateful Dead percussionist Mickey Hart performs on his self-designed "RAMU," a computerized sample bank set to explode with bursts of mbira, xylophone, and sand drum. Celtic singer Niamh Parsons adds a woman's touch on the traditional ballad "Green Grass, It Grows Bonny," with exquisite piano accompaniment by Paul Halley. There's plenty of exciting inter-band chemistry here, but beyond that, Journey with the Sun is a meaningful excursion that embraces the entire spectrum of the human experience, from anguish to compassion to ecstasy. –Carol Wright
–
"For 20 years, new age wind player Paul Winter has headlined world-class audiovisual musical extravaganzas celebrating the summer and winter solstices at New York's Cathedral of St. John the Divine. Most of the contemplative nature of this worldbeat meets new age recording reflects the ambience of the early morning summer celebration, while two songs — the intensely percussive, Middle Eastern-flavored "Caravan at Dawn" and the mystical "Yabu" — come from the 1999 winter show that featured Mickey Hart playing RAMU, or Random Access Music Universe (i.e., an incredible array of electronic sounds). The unique spiritual power of the album derives from vocalist Arto Tuncboyacian, an Armenian whose African-sounding guttural vocals utter phrases in "vocables" from his own personal dialect; this is exotic scat singing at its most creative! The mystical "Broken Arm" shows the more heartfelt side of his vocals, and the interesting mood swings continue throughout. The joyous jig-like "Mountain Wedding" features the Uilleann pipes of Davy Spillane, and these pipes are used to more haunting effect on "Pas de Deux." "Singing to the Mountain" is a wistful, folksy tribute to Tuncboyacian's late brother, who was killed in a plane crash in Turkey." –Jonathan Widran 
Performers
Paul Winter | soprano sax
Arto Tuncboyaciyan | vocal and percussion
Davy Spillane | Uilleann pipes and low whistle
Eugene Friesen | cello
Paul Halley | keys
Mickey Hart | RAMU
Niamh Parsons | vocal
Vardan Grigoryan | zurna
Damian Draghici | panflute 
Jerry O'Sullivan | Uilleann pipes
Zan McLeod | guitar
Jordan Rudess | keys
Jim Beard | keys
Dorothy Papadakos | pipe organ
Eliot Wadopian | bass
Join the World
of Living Music

Get the Latest News & Updates