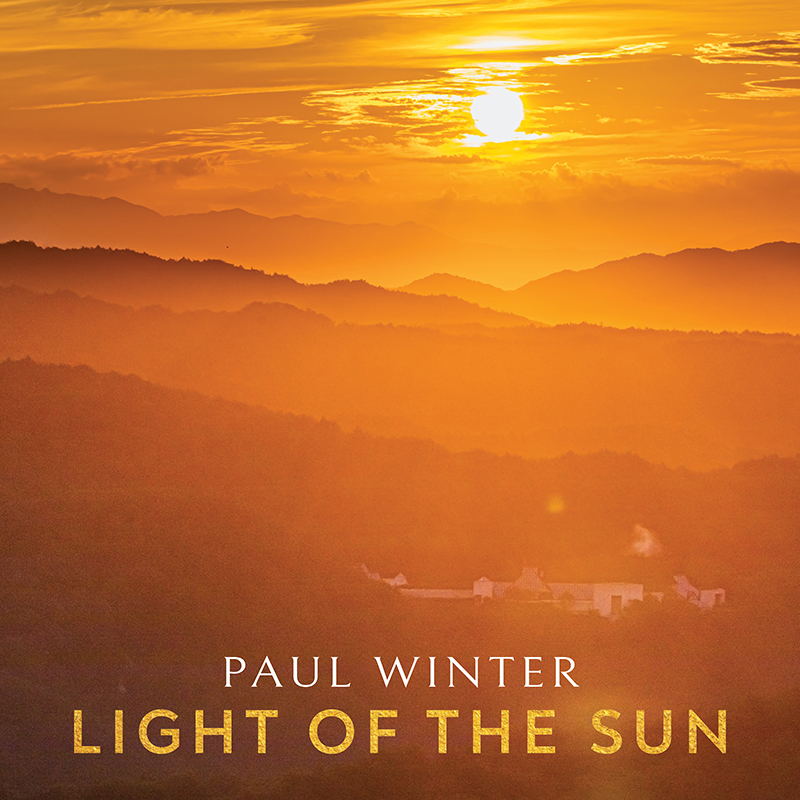 Light of the Sun
Paul Winter 
Released 2020
Run Time: 68 minutes 24 seconds
Produced by: Paul Winter, Dixon Van Winkle, and Tommy Skarupa
©℗2020 Earth Music Productions, LLC
Showcasing his signature sax voice for the first time, Winter has produced the most personal musical offering of his 60-year recording career.

Light of the Sun is a milestone in Paul Winter's long musical journey; the first album he has made in which he is the featured soloist throughout.

"Since I organized my first little band in Altoona at age 12, I have always worn two musical hats: as player and bandleader," Winter says. "But my love for playing sax has most often been overshadowed by my fascination with bands and ensembles of all kinds."

With his early jazz sextet and with the Paul Winter Consort, which has been his forum since 1968, Winter has usually been content to play as a member of the ensemble. The premise of his bands has always been that of a musical democracy: everybody is featured, but the overall ensemble sound is primary. However, he has long harbored the dream of creating an entire album featuring his beloved soprano sax.

"This year, having recently turned 80, I figured it was as good a time as any to do it," Winter says.
"The music is so elementally and proverbially 'still' that it is hard to believe that almost all of it is performed with someone else in the studio – that is, every work is either performed in a duet setting or greater. The sound of Mr. Winter's music has never sounded better, more focused and so utterly pure of purpose and tone."
Winter knew early on that he wanted this album to be a celebration of light. "With the title Light of the Sun, I intended to embrace the many meanings we attribute to light: light as spirit, love, consciousness, human kindness, serenity, heart, exaltation, fire, the light that is integral to beauty, and the smile that reflects the sunshine in our heart," continues Winter. "Music is the common medium that can embody both the spiritual and physical aspects of light."

The 15 pieces of the album include a series of new compositions, along with unique reinterpretations of iconic chestnuts from Winter's odyssey.

Included is a trilogy of pieces featuring voices from what he calls "the greater symphony of the Earth," saluting our three realms of ocean (Dolphin), air (Wood Thrush), and land (Wolf).

"I have had the great privilege of recording in my three favorite sonic temples on the planet: the 'Kiva' of the Miho Museum in Japan; the Cathedral of St. John the Divine in New York, where the Consort and I have been artists-in-residence since 1980; and the Grand Canyon, which has been a place of pilgrimage for me for many years," explains Winter.

"These are places where I feel my horn realizes its true voice, acoustic spaces where its spirit-song comes alive."

The album is structured as a journey with the Sun through the morning, afternoon, evening, and night of a day, and also through the seasons of the year.

"Light of the Sun is my testament as a sax player," says Winter. "And in saying this, I don't mean to imply it is my last. Actually, I'm intending it to be my first. When you arrive at 80, you need to be ready for something new."
Performers
Paul Winter | Soprano Saxophone
Ray Nagem | Organ
Tim Brumfield | Organ
Jeff Holmes | Piano
Denny Zeitlin | Piano
Warren Bernhardt | Piano
Henrique Eisenmann | Pianoforte
Don Grusin | Keys
Paul Halley | Keys
Eugene Friesen | Cello
Oscar Castro-Neves | Guitar
Peter Slavov | Bass
Dave Carpenter | Bass
Rogerio Boccato | Drums
Join the World
of Living Music

Get the Latest News & Updates