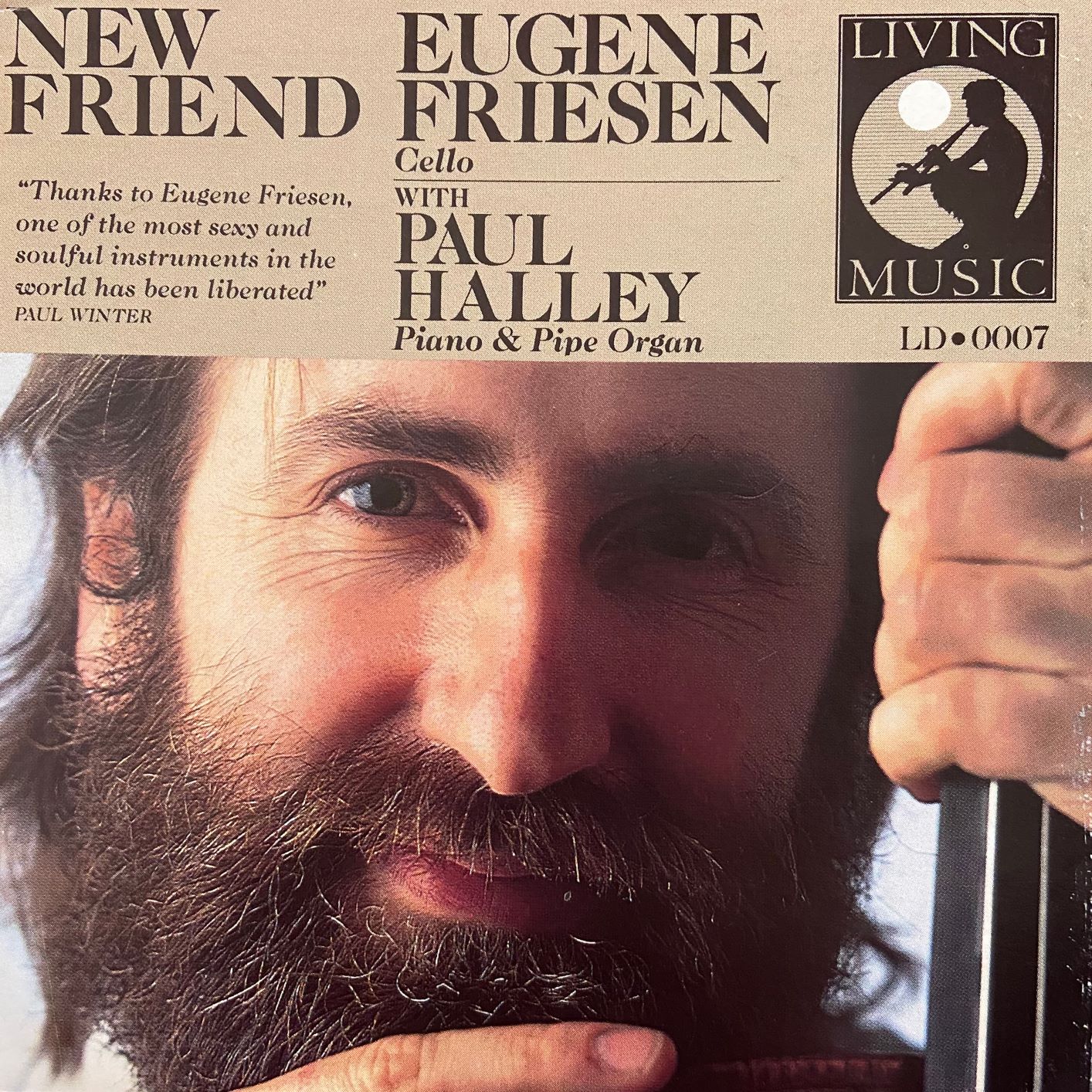 New Friend
Eugene Friesen and Paul Halley
Released 1986
Run Time: 47 minutes 53 seconds
Produced by: Paul Winter and Eugene Friesen
©℗1986 Earth Music Productions, LLC
Living tapestries of sound, woven by two master musicians, in the acoustics of a great cathedral.
With their free-wheeling duets for cello and keyboards, Friesen and Halley blaze a new path for their instruments in this landmark album of improvisations recorded in the vibrant acoustics of New York City's Cathedral of St John the Divine.
One November midnight, alone in the cavernous space of the world's largest Gothic cathedral, two old friends embarked on new adventure in music making. Colleagues for years in the Paul Winter Consort, Eugene Friesen and Paul Halley had never before make music together as a duo.
Starting from shared silence, offering sounds in free dialogue, they followed each other into unchartered territory, calling into play all their listening instincts. Musical sparks ignited into spontanous composition, tapping the deep roots shared by Friesen and Halley in the traditons of European classical music and jazz. During the course of the next two hours, this album was born.
This is music beyond categories, having both the new-morning spirit of wilderness and the timeless character of classical music. Elegant and earthy, rough-hewn and lyrical, it is honest music that mirrors the warmth and wit of the two people playing.
Friesen takes the cello into a new realm, beyond its traditional home on the classical concert stage. It becomes here a truly contemporary voice, singing of life and the joy of finding a new path.
"Friesen takes the cello beyond its traditional home of the classical ensemble" 
– DIGITAL AUDIO
Reviews:
"Thanks to Eugene Friesen, one of the most sexy and soulful instruments in the world has been liberated" (PAUL WINTER)
Performers
Eugene Friesen | cello
Paul Halley | keys
Join the World
of Living Music

Get the Latest News & Updates